Maeve Plouffe and Craig Wiggins on fire at the Devonport Crit
Wrapping up the final day of the Spirit of Tasmania Cycling Tour and the National Road Series for 2022.
The flat and fast criterium returned to Devonport to conclude the Spirit of Tasmania Cycling Tour for both the men and women. 
For stage honours, it was finally a chance finally for the sprinters to show their speed after plenty of hills over the previous stages, while the riders at the top of the General Classification just had to hold on to secure Tour honours.
Stage 3 and Sprint Classification winner Mauve Plouffe said "It was definitely a much nicer stage for me than yesterday, that was pretty savage out on the hills".
On the last 300m/400m of the race, Mauve said "I had the luxury of sitting in the break the entire time, so I figured since I'd been doing no work on the front for the last few laps and I did have the watts left, I stepped out around the side and got away". 
On what's next, Mauve said "this might be my last NRS race for a little bit because I'm going off to Europe next year to race, I love the NRS, it's obviously where I've started racing and where I've developed the skills.  The calibre of riders in here at the moment is incredible".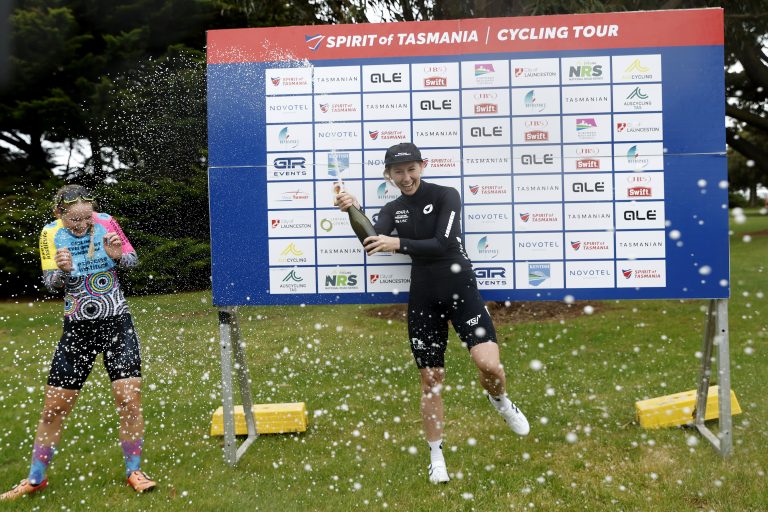 For the men Stage 4 winner and ARA Pro Racing Sunshine Coast rider, Craig Wiggins, said "that was awesome, my team road really well all tour and it was great to finish it off".
On today's stage, Wiggins said "it was such a flowy course so you could get a pretty good sit, I'm quite small and I'm good at my bunch positioning, so it was cruisey all day until the last 5 laps when it started to ramp up".
On what the plan was during the race, he said "I was just the sprinter, so all day I was sitting in and the other boys were chasing all the moves and covering. Coming into half a lap to go, we had Kane [Richards] and Declan [Trezise] drill it into the last corner and from there it was basically given to me on a plate, all I had to do was push to the line."
For the tour Dani De Francesco placed 3rd on GC and for the men Carter Bettles also placed 3rd on the NRS final tour of the season. Maeve Plouffe also took the Sprint Classification for the women!